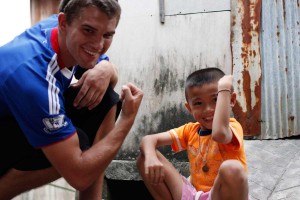 The needs are great and the workers are few!
If you are interested in serving in some capacity, these are opportunities available to you at ARK:
Specialized areas of expertise (counselors, medically trained staff, community development, teachers, builders, computer and technology, media and art, photography, graphic artists, administration etc.)
Long term committed staff
Create/serve in how you would like to contribute
Short term outreaches
Committment to prayer and intercession
Financial support/donations
All potential volunteers are required to:
Complete an application form (download form on the right for short-term Ark Volunteers, Long-term Ark staff or for Nak Suu Volunteers) inclusive of a police clearance check from their country.
Complete a YWAM Child Protection Policy form (download form on the right ) as part of their acceptance to volunteer.
Please contact our volunteer/outreach department if you are interested in joining staff, volunteering, or taking an outreach team to Bangkok to help children at risk
Email: volunteer@arkintl.org or visit our contact page for more contact information.